In September 2012 the township of Rostock decided to form a working group called "Remembrance" in which representatives of political groups and Rostock's society were supposed to discuss the design of an appropriate, dignified way to remember the racist pogrom of Lichtenhagen.
Then – in 2015 – an art competition was announced from Rostock's township. Places of remembrance were created by the 25th anniversary in 2017 to "provide a reminder of the pogrom and motivate people to engage with their own responsibility", based on the "Concept of Decentralized Recollection and Dunning" which has been developed by the working group "Remembrance".
The art competition was an open application process where 89 different entries from Germany, Austria, Switzerland, The Netherlands and The USA were submitted. Eleven of them were able to get on the shortlist. On November 23 in 2016 a jury of four judges for content and five judges for reward decided for the memorial "Past Present Future" made by the artist group SCHAUM.
You can look at the eleven shortlisted applications above. If you click on a photo, the project sketch to the memorial designs of the artist opens up.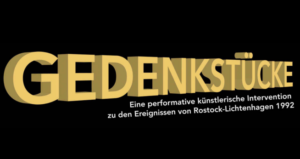 In 2019, on behalf of the Cultural Office, the monument design "memorial pieces" by the artists Stefan Krüskemper, Oscar Ardila, Christiane ten Hoevel, Michaela Nasoetion and Sahar Qawasmi was also realized as an app.